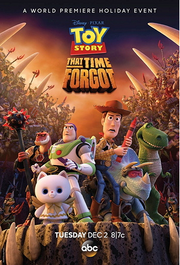 Toy Story That Time Forgot
 is a 22-minute television Christmas special that is based on the
Toy Story
films. It aired on ABC on December 2nd 2014. It follows the events of
Toy Story 3
and was written and directed by 
Steve Purcell
 and produced by
Galyn Susman
.
Michael Giacchino
composed the music for the special.
Tom Hanks
,
Tim Allen
, 
Kristen Schaal
, 
Wallace Shawn
,
Timothy Dalton
, 
Don Rickles
 and 
Joan Cusack
 reprise their roles as
Woody
,
Buzz Lightyear
,
Trixie, Rex, Mr. Pricklepants, Mr. Potato Head
and
Jessie
along with 
Kevin McKidd
 and 
Emma Hudak
 joining as new characters
Reptillus Maximus
and
Angel Kitty
, respectively. The special focuses on Woody, Buzz, Rex and Trixie meeting some tough Dinosaur toys.
Two days after Christmas, Trixie the Triceratops (Kristen Schaal) is depressed that Bonnie (Emily Hahn) never plays with her like a dinosaur. Bonnie later takes Trixie, Woody the Cowboy (Tom Hanks), Buzz Lightyear the space ranger (Tim Allen), Rex the T-rex (Wallace Shawn) and the Angel Kitty Christmas ornament (Emma Hudak) to her friend Mason's house for a play date. When they get there, Bonnie sees Mason playing a new video game system and tosses her toys into Mason's playroom to join him. There, the toys discover that Mason got a huge toy line of dinosaur-themed action figures called The Battlesaurs for Christmas led by Reptillus Maximus and The Cleric. Reptillus takes Rex and Trixie to get suited up in armor and he and Trixie grow closer. Meanwhile, The Cleric orders some other Battlesaurs to take Woody and Buzz hostage. After bonding, they go to an arena play set where Trixie watches horrified as Reptillus Maximus attacks Mason's toys. Soon, Woody and Buzz enter the ring. They reveal to Trixie that Mason hasn't played with Battlesaurs yet and that they don't even know that they're toys. Reptillus battles both Woody and Buzz until Trixie demands he stop. Then, a beast named Goliathon enters and swallows Woody and Buzz. Trixie goes to get Bonnie's attention to save them and The Cleric orders Reptillus to stop her. While chasing her outside the Battlesaurs area, he is shocked when he discovers his own toy package. Meanwhile, the Cleric controls Rex with robotic arms and uses him to pull Woody and Buzz out of Goliathon. They then discover that The Cleric is the only Battlesaur who knows they're all toys and is determined to make sure that the others don't find out, since Mason is too busy playing with his new game system. He then starts to force Rex to dispose of them and Angel Kitty in a ventilation fan. However, Trixie reaches the video game setup's power strip but Reptillus confronts her. Trixie tells Reptillus the importance of being a toy and he turns the game off getting the attention of Bonnie and Mason. They find him and decide to go play with the toys, saving Woody and Buzz in time. All of the Battlesaurs are moved by the playtime and enjoy their new roles. Later the toys head home with Bonnie and tell the other toys about their adventure. During the credits, Reptillus says he looks forward to seeing Trixie again.