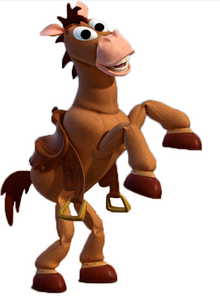 Bullseye is the secondary tritagonist of the 1999 Disney/Pixar movie Toy Story 2, it's 2010 sequel Toy Story 3 and it's upcoming 2017 sequel Toy Story 4. He is a toy horse.
Personality
Edit
Physical Appearance
Edit
He is a tall Slender fawn horse, with a brown mane and tail, brown hooves and a brown saddle.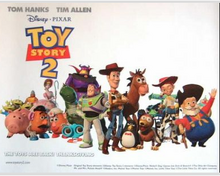 Toy Story 2
Edit
In Toy Story 2, he is a toy horse that is part of Al McWhiggin's Roundup collection, which he intends to sell at a toy museum in Japan. He is the first of the toys that Woody meets when he arrives at Al's Penthouse. Being in a storage for several years, Bullseye is excited to see Woody finally join the collection. He is shown to loathe fights, as seen when he hides into a can when Jessie is about to pounce on Woody for blaming her for the TV incident that prevented Woody from getting his severed arm back himself. However, Stinky Pete the Prospector stops the fight, and Bullseye expresses disappointment as much as Jessie does when Woody declares he will leave as soon as his arm is fixed. Later, when Woody is about to leave the apartment after having his arm reattached, Bullseye is still shown to be upset, but later brightens up after Woody, having learned about Jessie's tragic past, decides to stay with the gang to go to the museum. When the toys, led by a new Buzz Lightyear, break into Al's Penthouse, Slinky Dog and Bullseye have a growling match that Jessie tries to stop, but Slinky coils her up along with Bullseye. After Woody decides to go back to Andy's house, he decides to take the Roundup collection with him. And when he asks Bullseye, the horse eagerly licks Woody. However, Stinky Pete locks Woody, Jessie and Bullseye inside the room, and the Roundup toys end up being loaded into Al's case for its shipment to Japan from Tri-County International Airport. At the airport, Bullseye manages to escape the case just before it reaches the end of a conveyor belt, but Jessie still remains trapped inside the case as it is loaded into the luggage transporter. Woody and the Andy's Buzz Lightyear mount the newly freed Bullseye, and they gallop across the airfield to rescue Jessie. Despite being separated from Woody, Buzz orders Bullseye to follow him, as they are later seen galloping next to the front tires of the plane when Woody and Jessie climb out of the aircraft. Woody and Jessie swing between the tires through Woody's pull-string, and they land on Bullseye, right behind Buzz, just before the plane takes off. Back at Andy's house, Bullseye (and Jessie) are now part of Andy's toys, and has every letter of Andy's name printed on the sole of each of his hooves. Finally, Bullseye joins the other toys as they gather round to see Wheezy sing "You've Got a Friend in Me."
Toy Story 3
Edit
Toy Story 4
Edit
Buzz Lightyear of Star Command
Edit
Buzz Lightyear of Star Command: The Adventure Begins
Edit
Toy Story Toons
Edit
Videogame Appearances
Edit